High Quality Maps of the Larnaca district of Cyprus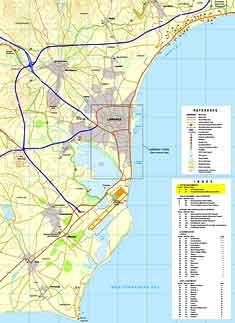 JPG | 2679 x 3630 | 689Kb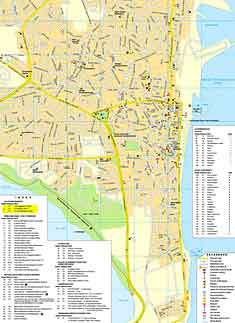 JPG | 2576 x 3613 | 871Kb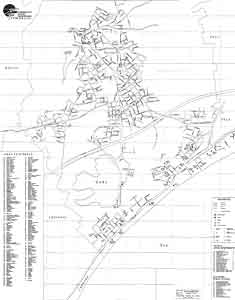 JPG | 3762 x 4984 | 907Kb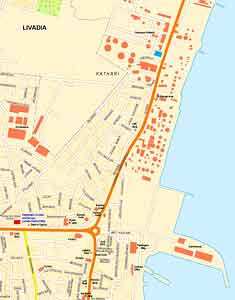 JPG | 2453 x 1840 | 581Kb
Larnaca - Miles and Miles of Beautiful Beaches
Larnaca is one of the major costal resorts in Cyprus and it is no wonder people of all ages, and with all different interests and holiday needs, turn to Larnaca over and over again. The resort has miles and miles of beautiful beaches, some of which are Blue Flag rated, and there are plenty of water sports and general activities available both in and out of the crystal clear ocean.
Few places can boast such an interesting and eventful history, making Larnaca a hotspot for culture and history buffs as there are plenty of museums and archaeological sites to enjoy. Larnaca town offers plenty of choice in accommodation from star rated hotels to self-catering apartments and villas.
The varied culture of Larnaca can be seen through the festivals and cultural events that take place throughout the year. These include:
Arts festivals, including summer music and performing arts that attract both national and international performers.
Religious events, in particular events to celebrate the beginning and end of Lent.
General festivals, including Europe Day in May.
5 more things to do in Larnaca
If you tire of sunbathing and shopping, there's plenty more to do in Larnaca. Here are just five ideas:
Water sports - including water skiing, scuba diving, surfing and sailing.
Walking or cycling - there are lots of guided walks and many routes for cyclists too.
Golf - Vikla Golf & Country Club is the closest course and has a one-off all-day playing fee which includes clubs and equipment.
Football - go to a local match; there are two teams in Larnaca: ALKI Larnaca and AEK Larnaca.
Eat out - Larnaca is a place that has embraced so many cultures over the years, making the cooking full of variety and flavours. You will truly be spoilt for choice for places to eat in Larnaca.
Larnaca Nightlife
Although Larnaca is not as busy or noisy as Ayia Napa, there are still plenty of great bars and nightclubs around the promenade area which boast relaxed and friendly atmospheres. Many of the newer and more modern bars often have themed nights such as Salsa dancing, Greek Pop nights, karaoke and 70s and 80s nights.
If large clubs are not what you like you can join the locals in a traditional tavern and enjoy local wines and bouzouki music.
There are also several venues in Larnaca that have live music, generally local bands and musicians playing a mix of modern and traditional styles.
While you are visiting Larnaca's bars and clubs, take the chance to sample traditional drinks such as Keo (beer), Commandaria (a local sweet wine) and Zivania, known as "the firewater of Cyprus".
Larnaca is famous for its beaches, the most famous being Phinikoudes Beach, known for its clean sand and warm, safe water. Phinikoudes Beach has Blue Flag status and because of its location, along the seafront promenade, you are just a short walk from facilities and the marina.
McKenzie Beach is another popular choice for beach lovers. Its stunning clean, white sand and clear, warm water makes it popular all year round. McKenzie Beach is a little way along the coast from Larnaca town but is still close to facilities such as cafes, restaurants, hotels and shops. McKenzie Beach also has Blue Flag status.
Two other popular beaches, which are a little further away, are Faros Beach, a quiet and charming beach in the nearby village of Pervoila, and Yanathes Beach in Oroklini.